*Harriton Play-of-the-Game*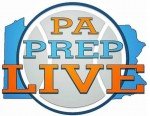 Strath Haven 62, Harriton 12 – The Panthers (4-0, 3-0) had their ground game working. Strath Haven piled up 297 yards rushing in the first half to open up a 48-6 lead. Haven averaged 12.9 per carry in the first half. Five different players scored touchdowns.
Matt Shuler scored on both sides of the ball. He returned an interception 49 yards for a touchdown and then ripped off a 60-yard run to give the Panthers a 21-0 lead.
Chase Barlow, Anthony Crawford, Bob Fookas, Nate Harrington and Mekhi Clark scored rushing touchdowns while Aiden Sutherland pulled in a 15-yard TD pass from Sam Milligan.
Logan Rothberg threw a pair of 11-yard touchdown passes to Matt Krebbs for Harriton.
(click on this link for the full story)
Webmaster's note – If you missed the Harriton game or simply want to relive all the exciting moments you can listen to our archived broadcast by clicking on the player below!
Podcast: Play in new window | Download