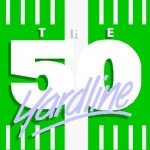 It's been a tough year for Panther fans.  Most of us had expected that we could return to the District One playoffs this year……with a little luck.  We had luck all right, but it was of the 'bad luck' variety.  We had trouble staying healthy and in spite of that and a roster of less than 45 players we managed to hang with almost every team we played.  As a matter of fact if you go through and check out our Play-of-the-Games for this season you will see that we could have just as easily had a 7-3 season, maybe even an 8-2 which would have put us right in the middle of the District playoffs.
In spite of the problems our team hung in there and finished strong, winning our last four games.
As usual, despite the win/loss record, we were witness to some great high school football.  Anthony Myers just missed a 1,000 yard season and got into the 200 Yard Club by racking up 245 yards against Lower Merion. Denzil Lezenby had 9 plays for a loss (for 53 yards) as well as 5 sacks and 5 pass break-ups.  Roy Chung, Paul Somaru, Alex Bratsis, Shane Mulhern and Colin Waitzman all registered interceptions. Nick Malone ran a punt back for touchdown and Alex Bratsis ran a kick-off back for a TD as well. That made watching (or listening) to our boys in black and silver our favorite thing to do on Friday night!
We want to thank Chip Carroll, the Athletic Director at Strath Haven, for his continued help and support as we do our best to cover all aspects of high school football.  Another big thanks to Coach Clancy and his staff for all their help and cooperation as we put together our game broadcasts and these Internet pages.  As always we appreciate the support of all the players, their parents and family for keeping these pages accurate and letting friends and family know how they can share their son's experience through our broadcasts and web pages. A big thank you to Juli Kroon and Pat Kroon as well as Bob Quinn for their game photos.
Finally to my staff of Brian Carroll, Pete Fulginiti and Billy Morgan who put in countless hours in the booth, studying game film and memorizing jersey numbers.  There is no doubt that this entire project is truly a work of love but it still requires hard work and a serious commitment to make these pages and our broadcasts as good as they are.
We can't wait until next year!  See you in August 2015!