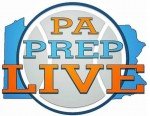 By Matt DeGeorge
A returning quarterback may mean there's more run-pass balance from Interboro's offense this season. But it doesn't mean that for coach Steve Lennox, third down is automatically a passing down, even as Jared Dellipriscoli has matured under center.That's less a commentary on his signal-caller than it is praise for option No. 1 on the third-down call sheet. Six times, Interboro gave Mike Moore the ball on third down in Friday's season-opener against Strath Haven. Six times, Interboro's big back plowed over and through defenders to move the chains.
Moore was the difference in a sloppy and error-prone Week 1 contest, his 178 yards on 29 carries powering Interboro to a 23-15 win in the Delaware County Athletes Hall of Fame Kickoff Classic.
"I know just knowing my coach, he's going to keep on doing it," Moore said of the third-down reps. "But I hope the whole season plays out like it did tonight."
Webmaster's note: Don't forget that if you missed the game, or just want to relive the moment, the audio broadcast of the entire game can be found on our Broadcast Archive page.
(click on this link for the full story)
Podcast: Play in new window | Download