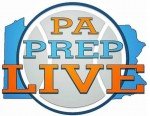 By Matt Smith
Jack Bakey has put in countless hours of preparation, both in the film room and at practice.He needn't worry about living up to the lofty expectations that comes with playing quarterback at Ridley High School. He is not the next Matt Blundin or Joe Emmi or John Waller or Dennis Decker, but Bakey is fit to run coordinator Scott Green's option-based offense.
Bakey and the Green Raiders were roughed up in the first month of the season. But as the quarterback continues to show how much of a grasp he has on the offense, the rest of the team has followed suit and is clicking at the right time.
"We are, with every game, gaining more confidence in each other," Bakey said Friday night. "We are coming together."
That much was evident in Ridley's 42-21 Central League decision over Strath Haven at Phil Marion Field. After losing their first four games, the Green Raiders are riding a three-game winning streak.
Bakey engineered six scoring drives as Ridley's offense amassed 440 total yards of offense. Of course, most of that damage happened via the run and Bakey played a big part in the offense's success.
Webmaster's note: Don't forget that if you missed the game, or just want to relive the moment, the audio broadcast of the entire game can be found on the player at the top of this article and all previous games on our Broadcast Archive page.
(click on this link for the full story)
Podcast: Play in new window | Download