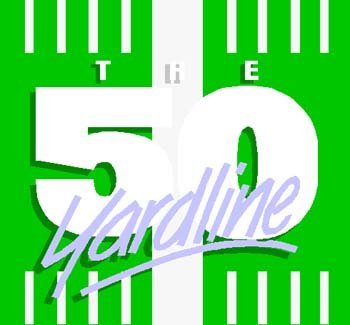 While we would love to change the ending of last week's game against Marple Newtown you can argue that is was a very exciting game with more scoring than we've seen all season.  The big play is what did in Strath Haven.  Total yards was Haven 351 versus MN's 493 but the amazing part of that is that Haven ran 64 plays to the Tiger's 52.  There were fumbles, interceptions, a field goal and plenty of long balls packing into one exciting game.  Too bad Haven didn't win it but it showed their ability to keep up (and lead) a good team just in time to enter the first round of the PIAA District 1 Playoffs.
And boy did we get a good seed.  Bishop Shanahan is 7-3.  Two of the three they lost to are pretty good powerhouses and their last two wins against Downingtown West (5-5) and Oxford (6-4) were wins against pretty good teams.  To make matters more interesting they are another team (like Marple) that likes to throw the ball. The team made a quarterback switch mid-season and it's definitely been a plus. Dan DiBeneditto (#4) was replaced by Andrew Smyth (#6).  DiBeneditto was moved to running back but has been a terrific asset in those positions.  Smyth has been steller since the move in week 7 posting  40-59 passes for 646 yards, 7 TDs, and only 1 interception. He also works well as a key running back for the Eagle with 93 carries for 428 yards, 5 TDs.
The other two favorite running backs are Connor Whalen (#3) and Liam Dearing (#33).  In the air Smyth likes to find Steve Sweeney (#17) and Tom Waite (#14).
These guys love to burn teams on the big play so the Panthers are going to need to contain the run and cover the receivers. Not an easy task.
Last week they kept the passing game manageable but lost containment on some very big plays. If they want more than a one-and-out they're going to have to find a way hold the line in the air and on the ground.
The Eagle defense is solid but will give up points.
Haven must also come to the table and continue to present a somewhat balanced attack.  Our opponents have begun to recognize the passing threat and have backed off the "box" and given us running opportunities.  A series of short passes will also give our running backs a chance to get into the backfield and use their running skills for gains.
Last week we scared the Tigers to death.  The aggressive running was driving them crazy and the pass threat made covering the running game much more difficult.  Take away a couple of big plays and Haven might have ended up on top.
Expect more of the same this week when the Panthers face the Eagles.  It should be a very similar, high scoring affair. Let's all hope the ending is different.
Kick-off is at 7:00 PM at the Bishop Shanahan. If you can't make the game you can always listen to our broadcast right here at Havenfootball.net.  Our broadcast will begin at 6:45. The game will be available on our archives within a few hours after the game concludes.  You can also check in on Twitter for score updates.