Each week during the football season, listen to Strath Haven Football live on Havenfootball.net Broadcasting Internet streaming audio. Brian Carroll, Pete Fulginiti, Andrew Kauffman and Mike Mayer are the radio voices for your Strath Haven Panthers and will  bring you all the action for every game. These Strath Haven Varsity football broadcasts, both live and archived, is the exclusive property of Havenfootball.net and is produced for the private use of our listening audience.  No re-broadcast in full or in part is permitted without the expressed written permission of Havenfootball.net. 
Broadcast Crew
BRIAN CARROLL Play-by-Play Announcer
Brian is thrilled to have begun broadcasting Strath Haven football in 2002, and is looking forward to another terrific season from the Panthers. Brian is a 1994 graduate of Hatboro-Horsham High School in Horsham, PA, and was there to see Hatboro-Horsham hand Strath Haven their first and only loss in a District 1 title game in 1992. While at Hatboro-Horsham, Brian was a three-sport athlete whose greatest achievements were on the baseball diamond, where he was an outfielder playing on three district playoff qualifiers, a Suburban One champion, and also played in the 1994 Carpenter Cup tournament at Veterans Stadium. Brian graduated from Villanova University in 1998 with a degree in secondary education. He was an assistant baseball coach at archrival Ridley in 1998, and has coached girls' basketball and baseball at Avon Grove High School and Hatboro-Horsham. In addition, he spent four seasons as an assistant coach for the Horsham American Legion team, served as public address announcer for District One Playoff games, and has served as an official for numerous soccer, football, basketball, and baseball games. In addition to his years covering Strath Haven football, Brian contributed as a writer to the Scholastic Play-by-Play Network's Preseason Basketball Preview magazine and has served as the play-by-play broadcaster on 6abc.com for the 2007 Philadelphia Catholic League Blue Division Championship and other games. He also had the pleasure of covering many other notable events in Delaware County, including incredible run to the 2007 state football final, Strath Haven boys basketball's unlikely march to the PIAA state playoffs· Ridley football's 2009 run to the PIAA semifinal. In each year since 2007, Brian has also been the play-by-play broadcaster for the Delaware County Hero Bowl. You can also hear Brian regularly on the 12 Man Scoreboard Show at www.prepnationradio.com, and he is proud to have been the "Internet voice" for all four PIAA State Championship games in Hershey each year from 2007 – 2013. Brian currently resides in Chester Heights with his wife, Erica, and their two children, Neala and Nolan.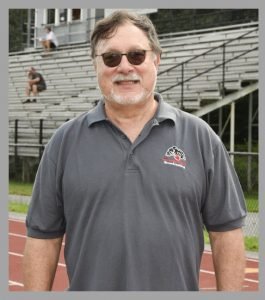 Mike Mayer Color commentator and engineer
Mike is the founder and Webmaster of Havenfootball.net and has been nurturing the concept of a great football web site for several years. While he had no plans to be an "on-air talent" the engineering issues involved in operating an Internet broadcast with commercials and features was just more than one person could do.  Mike joined the broadcast with Brian in 2006 to help make things run more smoothly in the broadcast booth.  As long was he was spending the evening in the booth he thought he might as well put on headphones and join the broadcast.  Mike keeps very busy running the broadcast and keeping the famous stat page. Mike has lived in Wallingford since 1984 and is the very proud parent of four grown children.  His oldest son, Jared, played in the 1997 varsity team when Mike first got the idea of an Internet site.  Mike has followed the Panther's ever since and has seen the web site grow from a few hundred visitors a year to well over 75,000 hits per season and over 10,000 listeners to the Internet LIVE game (and archived) broadcasts.
Pete 'Stat Man' Fulginiti Host of "At the Half" and press box spotter
Pete has been with us since the beginning of our web site and is a life-long resident of Delaware County.  All three of his children graduated from Strath Haven.  Pete started out helping in the booth to spot tacklers and then developed into the host for our halftime show, "At the Half".  Pete loves high school football and makes astute observations of the game and the teams as well as regular conversations about the NFL Eagles and MLB Phillies.
Andrew Kauffman Color commentator & engineer
A 2015 Strath Haven graduate Andrew is hoping to find a career in the broadcasting field.  A lifelong Philly sports team fan Andrew comes joins us as a member of our broadcast crew working on engineering, stats and some color commentary during the game and at half-time.   Andrew started his work with Havenfootball.net broadcasting last year and has become a great asset to our weekly broadcasts.