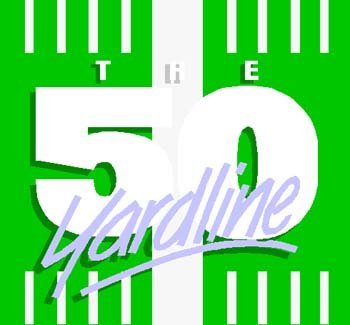 When you play competitive sports sometimes you simply go up against a team that simply has more talent and ability than you do.  Friday night's contest against Garnet Valley was one of those nights.  The Jaguars were impressive on both sides of the ball.  They averaged seven yards a play, punted once and controlled the clock for 27 minutes.  They went 4-4 in the red zone and had 457 yards rushing.  Certainly Garnet Valley seems to be the team to beat in the Central League and we predict will make a significant run in the District One playoffs this year. To be sure the Panthers had a reasonable game but had trouble finishing drives (which the Jaguars have been doing all year) and did what they could including some strong runs and a few nice passes.  Playing Springfield and Garnet Valley (the two major contenders in the Central League) is a tough schedule to work with but we believe both efforts were admirable and does well to set the Panthers up for a strong five game finish.
The week Penncrest comes into George L. King field for a special Thursday night game (Friday night begins the Jewish holiday of Yom Kippur) with a 7 PM kick-off.
Penncrest has been struggling so far this season with a 1-4 record.  They lost to Marple Newtown, Garnet Valley and Springfield (all powerful teams) in the Central League and lost their opener to Pope John Paul.  They did manage to beat Harriton.  Other than the Harriton game where they scored 40 points the Penncrest offense has had trouble getting across the goal line scoring 7 or less points in each of their losses.  On the other hand they did play teams who have prevented much in the way of points all season long.  Look for #20 Caleb Mahalik to get the call on the ground and they are led by #12 Chris Mills and #15 Chris Chelo who share quarterback duty.
The Panthers are licking their wounds from two tough games, teams that Penncrest has played and lost to as well.  This should be a very interesting match-up.  It seems to us that Haven is building on it's successes each week.  You can learn more from defeat than from victory and I think the Panthers know they are a good team.  The fumbles have to stop and drives have to be finished but we expect the Panthers to come onto the field Thursday night and utilize their running speed, strong blocking and excellent passing to make their mark as a District One 5A contender.  We like the different looks Coach Clancy has given the team (anybody working on a screen pass?) and feel that the play calling has been to the strength of the talent his team possesses.  We hope to see more of the same as the Panthers face-off against the Lions!
Kick-off is at 7:00 PM at the George L. King Field. If you can't make the game you can always listen to our broadcast right here at Havenfootball.net.  Our broadcast will begin at 6:45. Due to podcast broadband restrictions the game will not be available on our archives until the morning of Sunday, October 1st.  You can also check in on Twitter for score updates.