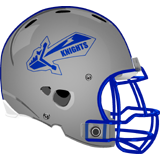 By Matt De George
Togba Porte's emotional victory lap a week ago lasted all of 10 minutes. Before the District 1 championship photos were loaded to social media, the Academy Park senior defensive end's focus had flipped.
"I'm really tired of getting stopped here," Porte pleaded then, surrounded by jubilant teammates on the muddied turf of Springfield High School.
In four years, the 'here' has changed, from state quarterfinals to semis, from Class AAA to 5A, from cityscapes to suburban vistas. But what hasn't — and what won't, no matter how much the PIAA beats its chest about its latest stab at inclusion and expansion — is AP's predicament. Nights like Friday and the 37-0 walloping served by perennial football factory Archbishop Wood aren't gravitating much closer to competitive balance or whatever hollow bywords fill press releases.
In AP's dynastic span of three District 1 titles in four seasons, the representatives of a tiny slice of Southeastern Delco have been trounced twice by Wood and its blue-chip-laden suburban all-star squad, and (now 4A) Imhotep Charter with its pan-Philadelphian reach. The only aspect that's changed in the PIAA's reconfiguration was that Wood and Imhotep no longer need beat up on each other before slamming a District 1 foe.
(click on this link for the full article)