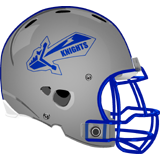 By Todd Orodenker
As the Academy Park Knights stormed the field to celebrate their second district title in three years, only one dude was calm.
The smile on Jawan Collins' face was wide, but his demeanor was level. Academy Park's 26-14 victory over Upper Moreland in the Class AAA District One championship Friday was complete. A berth in the state quarterfinals was secured. The Knights, now 13-0, will play the winner of Archbishop Wood/Imhotep Charter next week, back at Plymouth-Whitemarsh.
None of that seemed to matter to Collins. All he cared about was his teammates. His 188 rushing yards, three second
half touchdowns and game-clinching interception were irrelevant.
"I'm happy we won, but I'm not going to show it right now," Collins said. "I am excited, I can't think right now. I'm just happy to see them happy, that's all. Everybody happy, that's what I like to see. I just like to make everyone else happy."