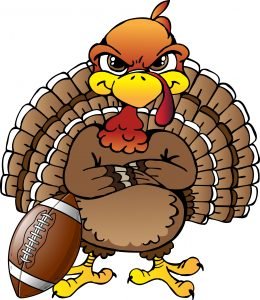 By Matt Smith
For Anderson, who was playing in his third straight Turkey Day game, it wasn't about him at all.
"I can't say that I physically won the game," Anderson said, "because I have 11 brothers on the field at all times. If we didn't have that block (on special teams), I wouldn't have won the game. We scored this touchdown as a team and that just makes this 10 times more special, knowing that I had 11 guys behind my back and knowing that they wanted to win this game just as badly as I did."
Indeed, the Green Raiders had several heroes — not just Anderson — in an instant Thanksgiving classic between arguably the top-two football rivals in Delaware County. Nick Pellegrino blocked the punt with a minute to play to give Ridley the ball at Interboro's 30-yard line. Malik Young, who sealed the win with a last-second interception, scored on a crazy touchdown run in the second quarter and gained 120 yards on nine carries. Stratton's one-yard touchdown run tied the game for Ridley (11-2) after Interboro (10-3) had taken control with 15 unanswered points in the third quarter.
What was shaping up to be a low-scoring affair turned downright wild in the second half. Forty-five of the 51 points were tallied after halftime.
(click on this link for the full article)