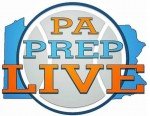 By Matt Smith
The most anticipated football game in Delaware County this year featured Garnet Valley and Strath Haven, two of three undefeated Central League teams entering play Friday.
The showdown marked the final meeting between Delco's two winningest coaches, Strath Haven's Kevin Clancy and GV's Mike Ricci, who will retire after the season. Considering how well both teams have performed, the throngs of fans in attendance likely expected a competitive game.
Alas, the game didn't quite live up to expectations on the scoreboard. The Jags were in complete control from the opening kick at a jam-packed George L. King Field, rolling to a 42-7 win. Garnet Valley (5-0, 4-0) is now one of two remaining unbeaten teams in the Central League, and will travel to Ridley next week to face the Green Raiders, who improved to 5-0 with a victory Friday night over Radnor.
Compared to the rest of the league, however, Garnet Valley is on another planet right now. The Jaguars are just way too good, too big, too fast. Against the Panthers, that was evident from the very start.
(click on this link for the full story)
Webmaster's note – If you missed the game or simply want to relive all the exciting moments you can listen to our archived broadcast by clicking on the player below!
Podcast: Play in new window | Download
Subscribe: Apple Podcasts | RSS