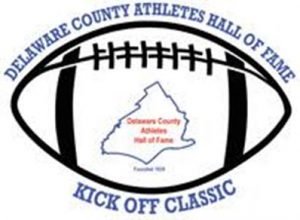 By Dave Burman
The PIAA high school football regular-season begins Friday night.
Good luck to coach Kevin Clancy and the Strath Haven (Wallingford) high school football team in 2018.
Strath Haven will host Interboro Friday night @ King Field. Interboro is coached by the legendary Steve Lennox.
…
Friday night is also the Delaware County Athletes Hall of Fame's fourth annual football Kickoff Classic. After the game, an MVP award is presented to a student from each school and each school receives $250 in that student's name.
Coach Clancy started his career at Archbishop Carroll (Radnor) from 1982-1990 (67-39-2) before moving to Strath Haven and building a powerhouse there with 2 PIAA state titles (1999 and 2000) and 4 trips to PIAA state championship game (1999, 2000, 2001, 2002) and producing 5 NFL players!
Year-by-year with coach Clancy:
Archbishop Carroll (Phila Catholic League) year by year record
1982 (10-3)
1983 (3-7)
1984 (10-4)
1985 (7-4-1)
1986 (7-5)
1987 (4-6-1)
1988 (9-4)
1989 (6-4)
1990 (11-2)
—————–
67-39-2
Strath Haven year by year record:
1991 (7-4)
1992 (11-1)
1993 (11-0)
1994 (3-7)
1995 (3-7)
1996 (11-2) Lost to Berwick in state quarterfinals, 29-2
1997 (12-1) Lost to Berwick in state quarterfinals, 7-0
1998 (13-1) Lost to Allentown Central Catholic in state semifinals, 13-12
1999 (15-0) State Champs over West Allegheny, 21-7
2000 (15-0) State Champs over West Allegheny, 31-28
2001 (14-1) Lost State Championship game to West Allegheny, 28-13
2002 (14-1) Lost State Championship game to Hopewell, 21-10
2003 (13-1) Lost to Manheim Central in state semifinals, 3-0
2004 (8-2)
2005 (10-3) Lost to Pottsville in state quarterfinals, 32-0
2006 (7-3)
2007 (8-3) Lost to eventual state runnerup Garnet Valley in D-1 semifinals, 42-7
2008 (7-4) Lost to Bayard Rustin in D-1 semifinals, 28-14
2009 (5-5)
2010 (12-2) Lost to Archbishop Wood in state quarterfinals, 24-14
2011 (8-4) Lost to Pottsgrove in D-1 semifinals, 29-28 (OT)
2012 (5-6) Lost to Pottsgrove in D-1 quarterfinals, 32-14
2013 (4-6)
2014 (5-6)
2015 (2-9)
2016 (4-7) Lost to Upper Dublin in D-1 5A first-round, 34-20
2017 (6-6) Lost to Unionville in D-1 quarterfinals, 39-8
—————
Strath Haven totals: 233 wins, 92 losses
Combined record @ Strath Haven and Carroll (300-131-2)