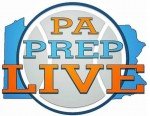 By Matthew DeGeorge
In the conditions at Knight Park Friday night, any handoff or throw ranked somewhere between treacherous and impossible. So whenever feasible, the Academy Park offense figured to simplify things with as few changing of hands for the pigskin as possible. Usually, it was just one, from the center to quarterback Skylor Fillis. And twice, there was Fillis handing the ball to a referee after long touchdown runs.
Fillis ran for 219 yards in quagmire conditions, his 52-yard touchdown with 6:18 to play making the difference for Academy Park in a 20-19 win over Strath Haven in the first round of the District 1 Class 5A playoffs.
The 13th-seeded Panthers (5-6) had led 19-7 at half. But Fillis' late touchdown and an extra point from Shemar Simpson (despite being roughed on the play) gave fourth seed AP (9-2) a win and another home game next week against No. 5 West Chester Rustin. The Golden Knights handled Oxford, 28-0.
Webmaster's note: Don't forget that if you missed the game, or just want to relive the moment, the audio broadcast of the entire game can be found on the player at the top of this article and all previous games on our Broadcast Archive page.
(click on this link for the full story)
Podcast: Play in new window | Download