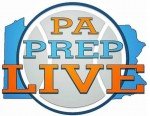 By Anthony SanFilippo 
Like many sports teams, Strath Haven football has a motto to live by for a season or so. This year, the Panthers are going with "Cowboy Up."They did that in more ways than one Friday.
Whether it was overcoming an early 12-point deficit, playing staunch defense against some quality skill players, or even coach Kevin Clancy doing his best impersonation of a former Dallas Cowboys coach, the Panthers did just enough to win a surprisingly close game, 22-18 over Lower Merion Friday night.
Zack Hussein was the bell cow, as usual, logging 165 yards on 29 carries, scoring two touchdowns, and getting the most important three yards of the game late in the fourth quarter.
The Panthers (1-1, 1-0) gained 260 yards of offense, all on the ground. But they found themselves in a precarious spot. Clinging to a four-point lead with a little more than three minutes remaining, Haven faced a fourth-and-one from its 29-yard line.
Webmaster's note: Don't forget that if you missed the game, or just want to relive the moment, the audio broadcast of the entire game can be found on our Broadcast Archive page.
(click on this link for the full story)
Podcast: Play in new window | Download
Subscribe: Apple Podcasts | RSS