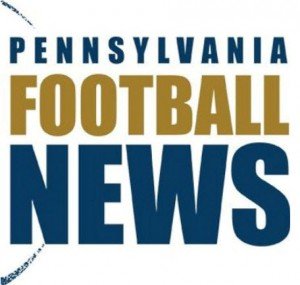 By Joe Stokes
There is just two weeks remaining before the Pennsylvania State Championship games are played in Hershey. There are just eight remaining teams in the hunt for a state title at all four levels.
Last week was packed with Turkey Bowl and playoff action and as this Friday approaches those still in contention will face an increasing level of talent each week. Blurry eyed fans will turn out in great numbers across the state and those in attendance will be treated to top level of competition this state has to offer.
The third week of post season play found third seed Upper Dublin and ninth seed North Penn advancing to the District One AAAA title game this Saturday. Academy Park was crowned AAA District One Champion and will face District Twelve title holder Imhotep Charter School.
This will mark the tenth season this writer has attempted to forecast the five toughest games each week. The last nine years the prognostication record stands at 460-193 while going 43-17 this season.
Last week was as good as it gets with a 5-0 prognostication record. Academy Park, North Penn, Imhotep, Upper Dublin and LaSalle all pulled through as predicted.
It is now time to pick the big games this week. !!!
Imhotep Charter vs Academy Park
This contest features the District One AAA Champion Academy Park Knights facing a fired up District Twelve Champion Imhotep Charter Panthers. The Panthers are fresh off an impressive upset victory over seven time defending champion Archbishop Wood. Defensive back Mike Crawford made a key play in this tight contest when he recovered a fumble and dashed 68 yards for a TD that tied the game at 14 apiece in the third quarter. Running back Mike Waters clinched the game for the Panthers with a 3yard plunge to account for the 20-14 final score. The Academy Park Knights rode a second half surge with 188 yards rushing and 3 TD's by QB Juwan Collins for an impressive 26-14 win over Upper Moreland. Both of these title holders are undefeated entering this game. It is a shame one these teams has to lose but Imhotep Charter has too many weapons to defend and the Panthers will advance to the next round.
Imhotep Charter 33 Academy Park 20  
********************************************************************
Upper Dublin vs North Penn
The third seed undefeated Upper Dublin Cardinals are in rare form this season. Although some will say their schedule is not the most difficult, this team has taken on all comers including last week's impressive 24-14 win over defending District One AAAA champion Pennsbury. The Cardinal defense stymied the Pennsbury ground attack and QB Ryan Stover directed a 15 play 65 yard drive to open the second half and provide a 21-7 lead that held up in the end. North Penn the ninth seed charged out to a 28-7 win over Neshaminy last Friday night.. The Knights had a balanced attack with Nyfeace West rushing for 226 yards and 2 TD's while QB Reese Udinski passed for 125 yards. Upper Dublin will be difficult to defeat but North Penn's depth and experience wins a close call.
North Penn 29   Upper Dublin   26
*********************************************************************
LaSalle vs Parkland
The last time these two teams met in the 2012 AAAA Pa State quarter finals the LaSalle Explorers were able to defeat the Parkland Trojans 28-7. So why would the result be different in 2015. Last Friday Parkland charged out to an impressive halftime lead on the way to a 63-21 victory over Wyoming Valley West. QB Devante Cross directs a potent passing attack with several able receivers including Kenny Yeboah, Nolan Ridgeway and Zack Bross that are all difficult to defend. LaSalle stunned St Joe's Prep two weeks ago in a 29-28 thriller and defeated Philadelphia Public League champion Simon Gratz last Saturday. The Explorers will be as go as far as QB Chris Ferguson and receiver Winston Eubanks can take them. My bet is on a Parkland win in a high scoring shoot out.
Parkland 41   LaSalle   37
*********************************************************************
The rest of the fearless forecast
Dunmore 23   West Catholic   21
Old Forge 27 Bishop McDevitt 20