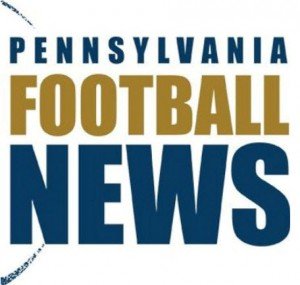 By Joe Stokes
This weekend those in southeast Pennsylvania are in for a rare chill in the air for what has been an unusually warm season this year. Local high school football fans are in for a pre-turkey day feast as we enter into the second round of District One playoff action.
The first week of post season play was full of great football and plenty of surprises. As pointed out last week playoff upsets are more of an expectation than a shock. The second, fourth, seventh and eighth ranked teams at the AAAA level were all defeated by lower seeds. At the AAA level only the third seed suffered a similar fate.
This will mark the tenth season this writer has attempted to forecast the five toughest games each week. The last nine years the prognostication record stands at 451-192 while going 34-16 this season.
Last week was a dismal 2-3 prognostication record. Perkiomen Valley and North Penn pulled through as predicted. However Springfield fell to Academy Park, Council Rock North was swept out by Upper Darby and Spring-Ford was rocked by Neshaminy to account for the bad calls.
It is now time to get off last week's canvass and find the winners. !!!
Great Valley @ Academy Park
This contest features the District One AAA semifinal showdown between the undefeated, top seed Academy Park Knights hosting the fourth seeded Great Valley Patriots. The Knights used two big plays to defeat Springfield last Friday night. QB Taylor Moors hit receiver DeAndray Covert for an 89 yard TD pass to open the scoring. The next score for Academy Park was a fake punt 45 yard run by Covert to make the difference in the 14-7 Knight victory. The Patriots used a stingy defense along with TD screen pass reception by Ryan Hubley and a 50 yard scoring scamper by Mark Derobertis to hold off the hard charging Interboro Bucs 17-8. The Knights will need to concentrate on fundamentals and speed to win this one.
Academy Park 20   Great Valley 17
********************************************************************
North Penn @ Downingtown East
The winner of this contest may well be the favorite to hold the District One AAAA title this year. The North Penn Knights are a familiar team to playoff action. North Penn has won their last eight games with one of the toughest Suburban One League regular season schedules. The Knights will rely on running backs Nyfease West and Nick Isabella to carry the load on Friday night. The Knights overwhelmed fourth seed Unionville last Friday night 48-7. The top seeded Downingtown East Cougars struggled to defeat sixteenth seeded Plymouth Whitemarsh 35-28. The Cougars have a perfect record with strong passing efforts of Saunders Healy and the running talent of Jack Kincade. In addition East outlasted North Penn 28-24 earlier this season. However you got to go with the hot team come playoff time.
North Penn 38   Downingtown East 34
*********************************************************************
Upper Darby @ Upper Dublin
The question of the night in this game is which of these two teams is for real ? The Upper Dublin Cardinals are having a dream season with QB Ryan Stover either beating opponents in the air or on the ground. Stover ran for 128 yards and passed for 214 in a 35-3 win over Garnet Valley last Friday night. The Upper Darby Royals are hard to believe but just keep on winning. Running back Isaiah Bruce rushed for 337 yards and seven TDs in a stunning 59-34 win over Council Rock North. Will either team's defense make a stop in this game ? The one the does wins the game. Home field advantage clinches it for the Cardinals.
Upper Dublin 45 Upper Darby 37
*********************************************************************
The rest of the fearless forecast
Pennsbury 23   Perkiomen Valley   21
St Joseph Prep 27 La Salle   18 (District 12)