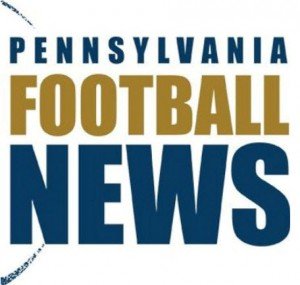 By Joe Stokes
The Pa State semi-final weekend is upon us and to the victors an all-expense paid trip to Hershey awaits them. The long season will finally end with four titles awarded to the survivors.
The fourth week of post season play found Upper Dublin and Parkland advancing to the AAAA Eastern Pa final on Saturday. District Twelve title holder Imhotep Charter School will face Saucon Valley in the AAA Eastern final
This will mark the tenth season this writer has attempted to forecast the five toughest games each week. The last nine years the prognostication record stands at 463-195 while going 46-19 this season.
Last week was a fair one with a 3-2 prognostication record. Imhotep, Parkland and Old Forge all pulled through as predicted. Upper Dublin's win over North Penn along with West Catholic's win over Dunmore accounted for the failed picks.
It is now time to pick the big games this week. !!!
Imhotep Charter vs Saucon Valley
This contest is a battle between two Panther squads that have made it through to the AAA finals with hard fought victories last weekend. The undefeated District 11 champion Saucon Panthers rode running back Evan Culmer's 206 yard 4 TD performance to a 35-7 win over Selinsgrove. QB Zack Thatcher also chipped in with 49 yards passing and 104 rushing yards to seal the victory. The Imhotep Panthers also enter this game the undefeated District 12 title holder. Their stellar defense led by Penn State bound defensive end Shaka Toney, Andre Mintze, Jordan McCray and Jalen Denby held Academy Park to 86 rushing yards and one TD through the third quarter in a 46-16 win last Friday night. Imhotep looks to be a slight favorite with big time talent on both sides of the line. Either way the Panthers win.
Imhotep Charter 31 Saucon Valley 27  
********************************************************************
Upper Dublin vs Parkland
The undefeated Upper Dublin Cardinals continued that perfect season with an impressive 46-21 win over the North Penn Knights. The Cardinal's rode a second half 29 point surge led by QB Ryan Stover supported by running back Stacey Gardner and tight end Jack Rapine. The Parkland Trojans finally overcame the Philadelphia Catholic League champion after three years of frustration. Devane Cross scored on a 4 yard TD scamper in overtime for a 16-13 win. Both these teams are having the best of seasons but only one can make it to Hershey. Parkland has been so close for many seasons and this may be that breakout game for the Trojans
Parkland 37   Upper Dublin   34
*********************************************************************
The rest of the fearless forecast
Southern Columbia 27   West Catholic 21
Erie Cathedral Prep 30 Bishop McDevitt 23
Pittsburgh Catholic Central 39 Cumberland Valley 28