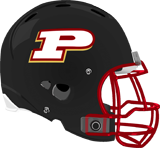 (webmaster's note: We will be posting Central League team previews as they become available)
By Matt Smith
Coach: Rick Stroup (Fifth season)
2014 In Two Sentences: The Lions, who were considered a preseason favorite in the Central League, stumbled to a 1-7 start. They managed to hit their stride in the second half of the year, winning their last two games, and spoiled rival Marple Newtown's chances of qualifying for the District One Class AAA playoffs.
Key Departures: Jonah Jackson (OL-DL), Carlos Ruiz (OL-DL), Diego Zubieta (LB), Chris Alyankian (LB), Dan Fisher (QB).
Looking Ahead: The Lions have a combined 12 starters returning this season — six on offense and six on defense.
Remember to pick up the annual Daily Times High School  Football Preview in the Sept. 3 edition of the Daily Times. In it you'll find full-page preview stories of all 22 teams in Delco, plus full schedules and other goodies.