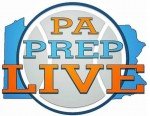 By Harry Chaykun
Some members of the 2018 Strath Haven football team had not been born when the 1999 and 2000 Panthers were crowned state champions.Those title teams could get the football up and down the field often, and they also were known for their strong defensive units.
"We want our identity to be that we can move the football, but we also want to be a good defensive team," senior defensive end Ethan Belville said after this version of the Panthers had limited visiting Conestoga to 18 yards in the first half and 114 yards of total offense in a 17-7 Central League victory over the Pioneers Friday night.
One fourth-quarter play typified what Belville was talking about. Playing on the right side of the defensive line, he raced from one sideline to the other in pursuit of 'Stoga quarterback Chris McGovern before pulling him down for a five-yard loss as the Panthers (3-1, 3-0) tried to keep the Pioneers off the scoreboard.
Four plays later, after a McGovern to Brady Carpenter completion put the ball inside the Panthers' 5, Liam Kirk (55 of his 81 rushing yards in the second half) banged over the goal line from four yards away for the Pioneers' lone touchdown.
Webmaster's note: Don't forget that if you missed the game, or just want to relive the moment, the audio broadcast of the entire game can be found on our Broadcast Archive page.
(click on this link for the full story)
Podcast: Play in new window | Download
Subscribe: Apple Podcasts | RSS