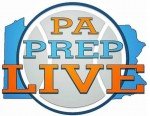 By Todd Orodenker
Back on Friday, before the game had even started, Strath Haven's Ethan Belville casually jogged past the Penncrest sideline as he and his teammates were preparing to enter the field. Without breaking stride, he grabbed the Hometown Bowl trophy that was peacefully resting on a Penncrest bench.Sixteen hours and eight minutes later, Belville and the Panthers were taking pictures with the trophy. It was theirs. Again.
"That's ours, bro. That's ours," Belville said. "They can't have it. That's ours."
Over the course of two days and at two locations, Strath Haven dominated Penncrest 35-0 in the Media Bowl. The game started as scheduled Friday night at Penncrest, but lightning and heavy rain caused a suspension midway through the second quarter. Late Saturday morning, this time at Strath Haven, the game resumed.
Regardless of where the field was, Strath Haven (2-1, 2-0 Central League) was in total control. The Panthers were up 28-0 and driving for more when the game was suspended. Fifteen hours and 11 minutes later, the game resumed. Six plays after that, Strath Haven scored.
It was that easy. The Panthers now lead the all-time series 28-8. It was their third win a row.
Webmaster's note: Don't forget that if you missed the game, or just want to relive the moment, the audio broadcast of the entire game can be found on our Broadcast Archive page.
STAT NOTE: All Stats are now corrected!
(click on this link for the full story)
Podcast: Play in new window | Download
Subscribe: Apple Podcasts | RSS