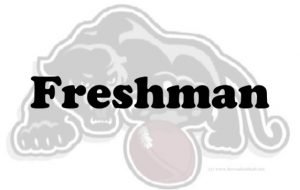 By Dan Mulhern, Freshmen Coach
Haven freshman lost to Ridley on Saturday Oct. 31st, 18-8.
The Panthers had the lead for three quarters 8-6, thanks to a 30-yard touchdown run by Nate Golden.
Unfortunately Haven had four turnovers on offense and could not sustain drives which put the defense in bad positions.
We hope to bounce back this Friday at 3:45 PM vs. Conestoga, at Conestoga High School.