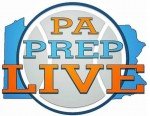 By Matthew DeGeorge
In terms of volume of plays to scheme against, Strath Haven's offense doesn't register as the most complex. Hasn't for a lot of years. Won't for as long as Kevin Clancy, Delaware County's winningest head coach, is on the sidelines.
But the veiled simplicity makes it arguably harder to stop: The same handful of players, the same execution, the same sweeps and counters and dives, death by 1,000 paper cuts that has for years more than held its own as other offensive fads have come and gone.
So when diagramming against it this week, Haverford didn't have the most ground to cover. But the plan the Fords concocted was the perfect counterpoint, a few simple solutions that worked wonders.
Haverford held Strath Haven to 143 yards of offense in posting a shutout and removing the zero from the Panthers' loss column in a 24-0 Central League win Friday night.
"We've got perfect guys in perfect spots," Haverford linebacker Will Higson said. "It's all about guys doing their jobs, and I think everybody did their job, and that's why they scored zero points."
(click on this link for the full story)
Podcast: Play in new window | Download
Subscribe: Apple Podcasts | RSS