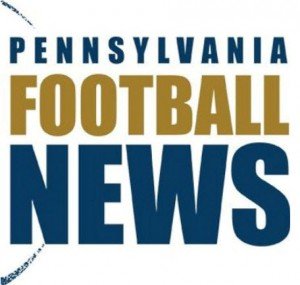 By Joe Stokes
There will be an early winter chill in air this weekend in Hershey, Pa. This cool down is in contrast to one of the warmest December's that folks throughout Pennsylvania can remember. Those traveling to Chocolate Town this weekend will have no problem warming up, as the top eight high school football squads will be fired up for their title games that close out the 2015 football season.
Santa Clause will be bringing his sleigh of full of fun to all next week, but the best gift of all is likely to come to the four teams that will be taking their trophies home by Saturday night.
The fifth week of post season games were played in spring like conditions. The survivors in the east included Parkland, Imhotep Charter, Southern Columbia and Bishop Guilfoyle. They now face the best of the west for all the marbles.
This will mark the tenth season this writer has attempted to forecast the five toughest games each week. The last nine years the prognostication record stands at 468-195 while going 51-19 this season.
Last week was as good as it gets with a 5-0 prognostication record. Imhotep Charter, Parkland, Southern Columbia, Erie Cathedral Prep and Pittsburgh Central Catholic all pulled through as predicted.
It is now time to pick the 2015 Pa State Champions. !!!
Imhotep Charter vs Erie Cathedral Prep (AAA)
This game offers quite a contrast in style and performance. The Erie Cathedral Prep Ramblers needed a second half surge to defeat Bishop McDevitt in a nail biter 38-34 last Friday night. Coach Mike Mischler found a way to slow down the McDevitt offense in the second half allowing his son QB Joe Mischler and running back Sullivan Johnson to rev up the Rambler offense for 522 yards that allowed for the second half comeback charge. Imhotep Charter had no such need to rally in their 72-27 win over Saucon Valley. The Panthers QB Mike Waters rushed for 227 yards while scoring five TDs. The Imhotep offensive line is huge at an average weight of 307 lbs. they provide loads of protection for Waters and running back Nasir Boykin. If the Ramblers defense can't find a way to penetrate the Panther offensive line it is going to be a long night for Cathedral Prep.
Imhotep Charter 47 Erie Cathedral Prep 21  
********************************************************************
Pittsburgh Central Catholic vs Parkland (AAAA)
The Parkland Trojans have been oh so close to this coveted trip to Hershey the last few years. Their 30-14 win over Upper Dublin was not an easy victory. Early in the third quarter Upper Dublin took a 14-7 lead and seemed to have all the momentum. However the Trojans scored the next 23 points with Deviant Cross passing for 245 yards and receiver Kenny Yeboah grabbing 7 catches for 103 yards. The Pittsburgh Central Catholic Vikings will be standing tall on Saturday evening hoping to repeat their 21-0 win over Parkland for the 2007 Pa State title. The Viking defense held Cumberland Valley to 80 yards in their 24-7 win last Saturday. QB Troy Fisher was on top of his game with the help of receiver Gunner Frerotte and running back Ronnie Jones the Vikings led throughout this contest. The Trojans have just enough to pull this one out.
Parkland 20   Pittsburgh Central Catholic   16
*********************************************************************
The rest of the fearless forecast
Aliquippa 31   Southern Columbia 27   (AA)
Bishop Guilfoyle 23 Farrell 14    (A)