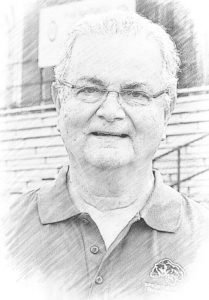 Having watched high school football for the last 25 years it seems that I have gained some insight into the game.  Mike Mayer, the webmaster at Havenfootball.net, suggested I put my thoughts on paper occasionally and share them with our faithful readers.
It has been several years since Strath Haven has been in the hunt for a Central League Championship.  Playing in a league with so many teams, many of which are 6A teams, it is a heavy challenge to finds ways to defeat teams like Garnet Valley, Ridley and Springfield.
This Friday night the long awaited match-up between the undefeated Panthers and the undefeated Garnet Valley Jaguars (both teams 4-0) will take place. It has been years since the Panthers have found a way to defeat the Jaguars.
For the first time in many years Strath Haven their will be staring their ultimate challenge in their face in this mid-season game. To be sure, the real goal of any season is to qualify for PIAA District One playoffs and then make a run as deep as possible but winning the Central League is a wonderful "bragging rights" accomplishment for any of the 12 teams involved.
We have seen Haven's lethal running attack all season.  The three headed monster (#24 Chase Barlow, #23 Matt Shuler and #32 Anthony Crawford) have destroyed their first four opponents. We have also witnessed a new passing attack and quarterback #4 Sam Milligan and company do it well.
After four contests the passing game has been a side show of the Panther powerful running game but against the Jaguars they will need to  incorporate it as part of their attack. Garnet Valley is simply too big and too strong to execute less than a complete, fully dimensional football team. The more uncertain the defense call, pass or run, the more likely Haven will find gaps and openings to exploit and use their speed both in their straight-out running game and with their ability to throw, catch and run.
Part of the challenge of facing a power house like Garnet Valley is the game for field position. Haven simply must improve their kick-off coverage. Giving the Jags a short field could literally tilt the field in favor of the Jags.
Haven has played very clean football. Little in the way of turnovers and penalties.  Continuing that effort will be critical this Friday night.  In the final analysis the team with the least turnovers may be the team that goes home with a win.
Win or lose I'm looking forward to Friday night.  It should be special night for everyone!
Webmaster's Note: Pete Fulgin

iti has been

a critical part of Havenfootball.net since it's inception in 2002, first as helping with game stats and later as a commentator and spotter in the booth.  This is his first attempt as a sports writer.  We hope to see more in the future.