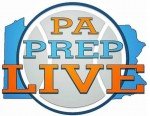 By Matt Smith
Lance Schwartz didn't wear his usual No. 62 against Strath Haven Friday night.
The 6-3, 285-pound Garnet Valley offensive lineman grew out of the jersey.
"He couldn't fit into it, so he was the one wearing No. 77," Jaguars coach Mike Ricci said.
Schwartz laughed at the suggestion that he was hitting the weights too hard … or maybe spending extra time in the cafeteria during lunch break.
"Probably both," he said.
Schwartz was in the middle of a dominating offensive performance by the Jaguars, who clinched a share of the Central League championship with a 49-14 victory.
This was textbook Garnet Valley football. The Jags ran the ball 52 times for 490 yards and scored on all seven of their possessions. There was one drive that started with eight seconds left in the first half, and another with the sole purpose was to run out the clock in the fourth quarter.
(click on this link for the full story)
Webmaster's note: Missed the game? Listen to the entire game on our archive file listed below. Go to our Broadcast Archives page for all game archives.
Podcast: Play in new window | Download
Subscribe: Apple Podcasts | RSS