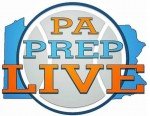 By Matt Smith
Will Pileggi couldn't help but flash a wide smile Saturday night. The West Chester Rustin quarterback completed 10 of 11 attempts for 124 yards and three touchdowns in a 42-6 trouncing of fourth-seeded Academy Park in a District 1 Class 5A quarterfinal at Strath Haven.
"It feels pretty good right now," he said. "I've never been this far in the playoffs. We made to (the quarterfinals) last year and that was it for us."
It's far from over for the fifth-seeded Golden Knights, who get a rematch with No. 1 Penn Wood in next week's semifinals. Rustin (9-2) handed Penn Wood (11-1) its only defeat of 2018 back in September.
To say that Rustin dominated AP (9-3) would be an understatement. On the opening drive of regulation, Rustin chewed up 6:22 of clock with a methodical 12-play drive capped off by Michael Covert's first of four touchdowns.
"We practiced really well this week and came out prepared," Covert said. "All of the coaches got us ready. We went through all of their schemes with our offense and it showed off tonight."
Webmaster's note: Don't forget that if you missed the game, or just want to relive the moment, the audio broadcast of the entire game can be found on the player at the top of this article and all previous games on our Broadcast Archive page.
(click on this link for the full article)
Podcast: Play in new window | Download
Subscribe: Apple Podcasts | RSS